How Shall We Then Live - 2018 Bible Conference
---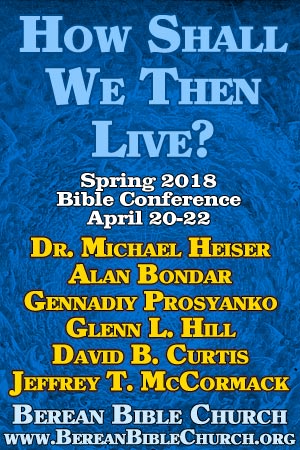 $15 MP3 Download
The April 2018 Bible Conference media set gets you a download of the lectures in MP3 format for $15 (download link will be emailed within 24 hours after purchase usually).
Lectures include:
Dr. Michael Heiser
The Jewish Trinity: Ancient Judaism's Godhead
The Image of God: What It Is and Isn't
Cosmic Geography: The Supernatural Worldview of the Bible
A Biblical View of Angels
Q & A Session
Alan Bondar
Christ's Perfect Reign

The one-thousand year reign. Past, present, or future? Does it matter? How does each option affect our theology and how we live today? The answers to these questions have far greater implications than you might think.
Gennadiy Prosyanko
Donbas - A Spiritual War

Sharing stories of his missions to war-torn Ukraine and the marvelous things God is doing through his work.
Glenn L. Hill
It's Wednesday, But Sunday's Comin'

A story providing a first-hand view of the events surrounding the crucifixion and resurrection of Christ.
David B. Curtis
Jeffrey T. McCormack
The Significance of AD 70 in Early Church History

Ask most in the church these days what the significance of AD 70 is to the Bible, and doubtful anyone will have a clue. This was not the case for many in early church history.