How Shall We Then Live - 2016 Bible Conference
---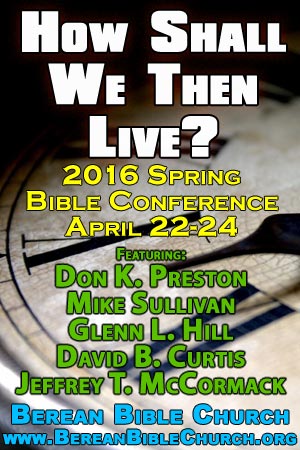 Within the US:

Outside of the US:

The April 2016 Bible Conference media options are getting a download of the lectures in MP3 format (download link will be emailed within 24 hours after purchase usually), or grab the DVD set to watch the lectures.
Lectures include:
Don K. Preston
The Millennium

The millennium is a hotly debated topic. Is it already fulfilled in the past, are we living in it at present, or is it still in our future?

All Israel Shall Be Saved (Romans 11)

What does John the Baptizer have to do with Romans 11:25f?

The Glory to Be Revealed

An amazing comparative look at Romans 8:18f and 1 Peter.
Mike Sullivan
The Rapture of 1 Thessalonians 4:15-17

A Full Preterist response to the various literal rapture views

The Gifts of the Spirit (1 Corinthians 13:8-12) - Part 1 & Part 2

A Full Preterist response to John MacArthur's book Strange Fire and Michael Brown's Authentic Fire over 1 Cor. 13:8-12.
Glenn L. Hill
A New Place to Live

Taking a look at a different point of view on 2 Cor. 5:6 - "We know that while we are at home in the body we are away from the Lord"
David B. Curtis
The Crushing of Satan

We will be looking at what the Bible says about Satan. Who was Satan, where did he come from, what was his role, and is he still around?

Hair and Sexuality

A cultural study 1 Corinthians 11: 2-16 and Paul's use of a head covering. Ladies you'll want to bring your veils to this one.
Jeffrey T. McCormack
Demons, Vampires, and the Lord of the Ring

A look at some ancient Hebrew and early Christian concepts of demonic activity and related entities.