How Shall We Then Live - 2014 Bible Conference
---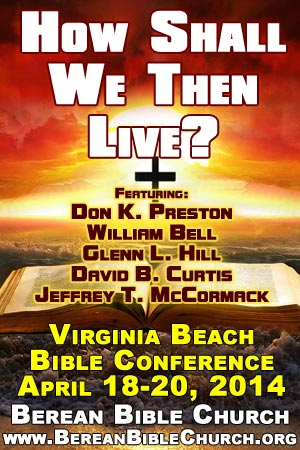 Within the US:
Outside of the US:

The April 2014 Bible Conference was again a blessing to all who attended. You can relive a piece of that blessing by getting a download of the lectures in MP3 format (download link will be emailed within 24 hours after purchase usually), or grab the DVD set to watch the lectures.
Lectures include:
Don K. Preston
Daniel 12: Final Resurrection or Foreshadowing of the Future?
Daniel 12: The Great Tribulation and Resurrection
Daniel 12: Eternal Life
William Bell, Jr.
Survey of 1 Corinthians and the Temple of God (Pt 1)
Survey of 1 Corinthians and the Temple of God (Pt 2)
Glenn L. Hill
David B. Curtis
The Ascension and Return of Yeshua
Jeffrey T. McCormack
The Sky is NOT Falling: A Brief Survey of Apocalyptic Symbolism