How Shall We Then Live - 2012 Bible Conference
---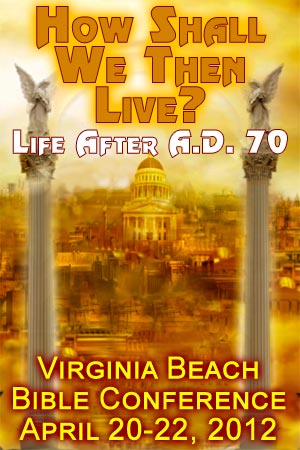 $15 MP3 Download
The April 2012 Bible Conference was a blessing to all who attended. You can relive a piece of that blessing by getting a download of the lectures ($15.00) in MP3 format (download link will be emailed within 24 hours after purchase usually).
Lectures include:
Glenn Hill
How To Share The Preterist View
Loving One Another In The Kingdom
David Curtis
Why Does Preterism Matter?
Caring For The New Creation
Don K. Preston
Ethics and Morality in the New Creation (Post AD 70)
Evangelism in the New Heaven and Earth--Un-Necessary or On-Going?
Is the Sermon on the Mount the Constitution for Kingdom Living Today?
Rich Nemec
Today You Will Be with Me in Paradise
Wise as Serpents, Innocent as Doves
Jeff McCormack
Restoring the Full Gospel Message